Recommended Reading!
Check out this growing list of terrific books for learning and growing in your Christian life. And click Bible Reading Plans for some great ways to be in God's Word every day!
A divine template for true intimacy in marriage
The shelves of Christian bookstores are filled with "how to" books addressing a broad spectrum of issues related to marriage. However, there is a dearth of material that addresses the bedrock issues of marriage from a foundationally theological and pervasively gospel perspective. This is the much needed task that Alan Dunn has accomplished for us.
The Man of God (His Calling and Godly Life) by Albert N. Martin
From 1978 to 1998, Pastor A.N. Martin taught Pastoral Theology in the Trinity Ministerial Academy, a church-based ministerial training institution. Every Friday throughout the academic year, all the students would gather for two hours of teaching presented in a four-year cycle. Subsequently various series of the audiotapes were widely circulated. Many expressed their desire to see these lectures printed. Pastor Martin reworked the original lectures and delivered them one final time, while professionally recording them. The transcriptions of these DVD lectures constituted the basis for the first draft of these edited lectures. This is Volume 1 of what is projected to be three volumes totaling more than 2000 pages.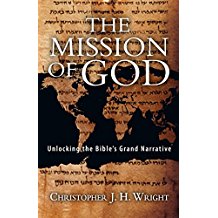 The Mission of God - Unlocking the Bible's Grand Narrative
by Christopher J. H. Wright
Most Christians would agree that the Bible provides a basis for mission. But Christopher Wright boldly maintains that there is a missional basis for the Bible! The entire Bible is generated by and all about God's mission. In order to understand the Bible, we need a missional hermeneutic, an interpretive perspective in tune with this great missional theme. We need to see how the familiar bits and pieces fit into the grand narrative of Scripture. Beginning with the Old Testament and its groundwork for understanding who God is, what he has called his people to be and do, and how the nations fit into God's mission, Wright gives us a new hermeneutical perspective on Scripture. This perspective provides a solid and expansive basis for holistic mission. God's mission is to reclaim the world―including the created order―and God's people have a designated role to play.
Finishing Well to the Glory of God - Strategies from a Christian Physician by John Dunlop, M.D.
Most people want to finish life well, yet so few take the time necessary to carefully think through what that entails. Some say it means contentment, happiness, and freedom from pain. Many desire to simply maintain their dignity and enjoy their family and loved ones. These are reasonable goals; yet, there is a more profound, uniquely Christian approach to the end of life.
John Dunlop, a medical doctor who has practiced for over thirty years and specializes in geriatrics, combines his medical expertise, firsthand experience with patients, and firm commitment to Scripture to propose nine strategies for finishing life well. He shows how with proper physical, emotional, and spiritual preparation, aging and death need not be a fight to the finish but a purposeful resting in the arms of the Savior. Theologically robust and practically relevant, this book will prove to be a sensitive and helpful resource for anyone facing end-of-life issues.
We Become What We Worship: A Biblical Theology of Idolatry by G. K. Beale
The heart of the biblical understanding of idolatry, argues Gregory Beale, is that we take on the characteristics of what we worship.

Employing Isaiah 6 as his interpretive lens, Beale demonstrates that this understanding of idolatry permeates the whole canon, from Genesis to Revelation. Beale concludes with an application of the biblical notion of idolatry to the challenges of contemporary life.